We're traveling this week, so we did something we do for every international trip we take: we registered in STEP. This post is a brief plea to U.S. citizens and nationals: please sign up for STEP when you travel (or even move) to a country outside the United States.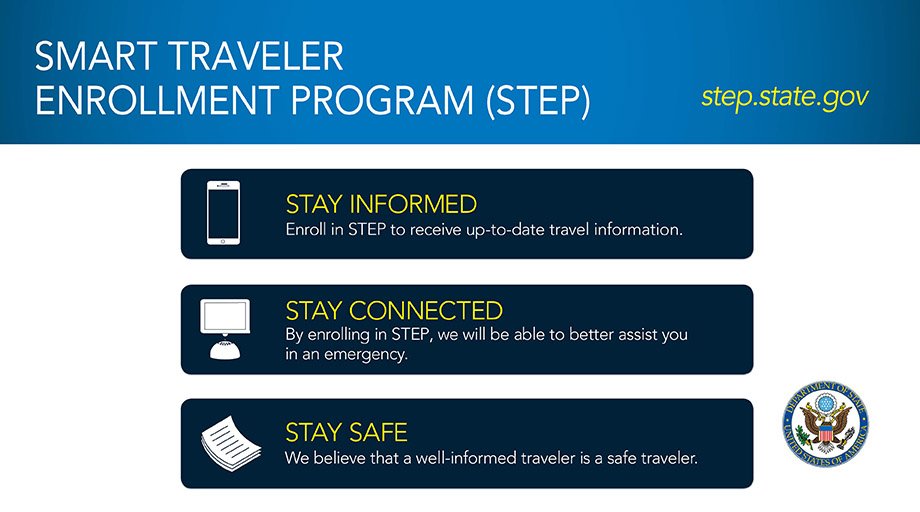 STEP stands for "Smart Traveller Enrollment Program". It's a free online registration that allows for a few things: it lets your nearest Embassy or Consulate know you're there. It helps them send you any security messages, warnings, alerts, or updates that you should know while you're there. Most importantly, it helps your representatives abroad (and your loved ones back home) contact you in case of an emergency.
Although I haven't done Consular work yet, I know from my personal experience that STEP makes a difference. I have received key security information through STEP in my travels through Oman, France, and even now in Kenya. If you don't sign up, you simply miss out on those helpful updates.
I've also heard the heartbreaking stories from my colleagues of many unnecessary hours or even days in a crisis situation desperately trying to contact someone who hadn't provided any information through STEP that would've helped connect them with the Embassy (and their frantic family) sooner.
This system exists to help, serve, and protect you. (The peace of mind alone is enough to make any trip more enjoyable!) I hope you (like us) find it's well worth the few minutes it takes to register, every time.